Very rarely do we get caught up in trying to spot trends in terms of which schools are "hot" at any given moment.
This is mainly because narratives tend to overreact in the moment, only to fade over time ("Wharton is going off the rails" - 2013 .. "Stanford is mired in sexual harassment scandal!" - 2015), but also because so much of trying to spot these trends is about reacting to anecdotal evidence from a small sample size. Put another way: you are just hearing your clients buzz about schools and express their opinions. Is that enough to go all-in on? No, definitely not. But can you sometimes spot an interesting new trend or pattern? I think yes, sometimes you can.
We can look to the recent past for support on this.
In the case of Booth about 7-8 years ago, you could feel them coming on strong with huge money spends, the benefits of a new building, careful management of their brand, and other facts that made it feel very likely that the school was going to take a jump. Just a few years later, it did take that jump. In the case of Yale SOM, we wrote about why it might be a hot school several years ago and then it started shooting up the rankings. Sometimes the noise is just noise. But sometimes it is the signal (to paraphrase Nate Silver). So, which two schools seem to be creating the most noise this year among my clients? On the plus side: Kellogg. On the minus side: wait for it ... HBS. Yes, the mighty Harvard Business School.
Overnight, Kellogg went from kind of a "beige" business school (for lack of a better term) to one bathed in neon light. It's incredible.
Trending Up - Kellogg
Quite simply, my clients are raving about Kellogg right now. I think the reason is pretty simple, as Northwestern has added a world-class facility to its already top-flight culture. With Kellogg in the last five years, it has felt like the trade-off has been: "give up some of the cutting-edge in exchange for being with really cool people in a place built on compassion and values." In a world going to hell in a handbasket, many have been willing to take that trade-off. Now? It doesn't feel like they even have to. And to me, this is proof of how valuable a new, gleaming, innovative building is. It's not just a great space to attend business school, it projects innovation, a tech focus, and vision. It's like a massive advertisement for modern thinking and advancement. Overnight, Kellogg went from kind of a "beige" business school (for lack of a better term) to one bathed in neon light. It's incredible. And when you factor in that they interview everyone - and many of those will be on campus - I think you can expect the small swell that I'm hearing right now to become a rising tide. So you heard it here first: one of the old lions of the MBA space is about to become the new "hot school."
Trending Down - HBS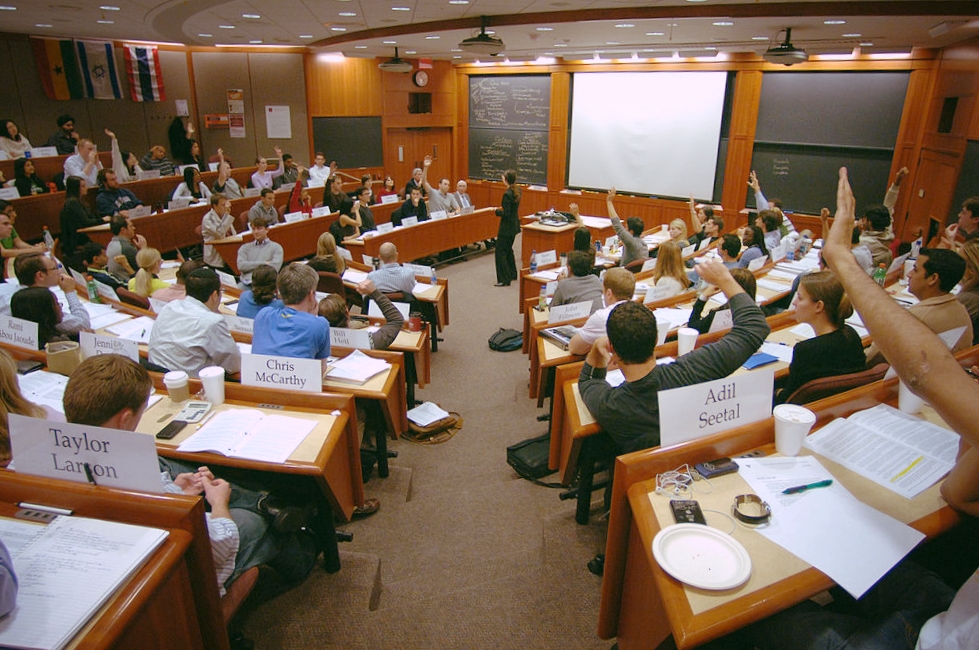 Has the "disruption" generation set its sights on HBS?
Has the "disruption" generation set its sights on Harvard Business School? Now, don't get me wrong, pretty much all my clients still apply here, they still live and die on the results, and most will probably still attend if they get admitted. But there is something just a little different in the air this year. There is still the same nervous energy about bad outcomes, but less excitement about good ones. More and more of my clients have Stanford as their first choice and some are even thinking they might choose Wharton over HBS if given the opportunity at both. I think part of the reason is just exhaustion with HBS' admissions practices, if I can be blunt. The insanely early deadline, the ridiculous "two waves" of interview invites (which seems to accomplish nothing except provoke anxiety), the over-the-top post-interview writing assignment, the list goes on - everything Harvard does seems to be designed to make this process more stressful. (Now, I think that is to the advantage of applicants because if they can cruise through stress free it's a great look, so I'm not personally complaining.)
I do think some fatigue is setting in for people. But that fatigue only feels real in a world where people are willing to pivot. If HBS maintained its singular dominance in the MBA culture, candidates would put up with literally anything to get in. My thinking is that this new generation is different. People are seeing that the world is truly upside down. They watch Sean Spicer lie his ass off from the White House podium and then get a fellowship at Harvard and they think, "really, that is the brass ring I am chasing?" They see that people starting incredible businesses went to all kinds of different schools. They note that the best business plan competitions are at MIT and Booth and others. Why kill yourself to go to the old-fashioned version of the best when there can be lots of "bests?" I am not sure if I agree or disagree, but I definitely feel a change in tone. It wouldn't surprise me in the least if we see Harvard's apps dip a bit the next few years.
Have any trends you are seeing on your end? Want to know more about what we are observing? Hit us up at mba@amerasiaconsulting.com.